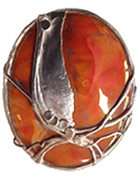 SAVE THESE DATES
Saturday, October 18 & Sunday, October19
10 AM to 5 PM [Rain or Shine]
In it's ninth year, HopArts has become an established tradition which not only helps usher in the Fall season,  but brings together artists and the public in a welcoming and personal way.
On October 18th and 19th,  from 10 AM to 5 PM, HopArts will once again open the trail to a diverse group of local artists and artisans who are happy to show their work, demonstrate their craft and display their surroundings.
This year there will be 32 artists showing in approximately 15 studios and homes.  These artists are award winning, recognized and  accomplished. Their work spans a variety of mediums, from oil, wood and metal sculpture, photography, jewelry, glass, ceramic, textile or fabric art. Many of the artists are returning because they enjoy the chance to meet the public and the association with the other participating artists whose quality of  work is impressive.
The Trail begins in the town of Hope Valley. Exit 2 or 3 off Route #95.  Brochure and map are available online or at many of  the local businesses. The website and the brochure provides a map to  guide you to each of the artist's location, and to tell you about each artist and their work. You may also download a pdf file of the current Trail map. [Right click or Option click on this link.]