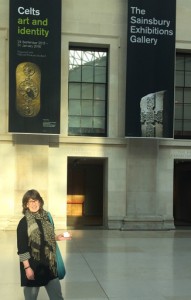 HopArts stone carver Laura Travis just returned from a trip to London to study some of her favorite Celtic art objects at a spectacular show at the British Museum "Celts: Art and Identity". She funded the trip with a successful Kickstarter! and is eager to get back into the studio to get busy on a new body of work in stone sculpture to reflect all that new inspiration!
WORKSHOP AND CLASSES
Laura is offering two classes in stone carving in her studio in Warren, RI. Registration for the Workshop can be found at Eventbrite or at lauratraviscarving.com or by phone call: 401-792-7149. Enrollment is limited!
Relief Carving in Limestone Workshop
February 20 and 21
9:30 am to 4 pm (with lunch break)
Relief carving is a satisfying and useful skill which has numerous applications for gardens, landscaping, and creative expression. In this 12-hour introductory-level workshop, students will use manageable scraps of limestone and carve them in relief-bring your own idea or utilize teacher references – and in the process learn something of an art form that has graced buildings and monuments from the Assyrians onward. Please note: this workshop does not include instruction in carving letters. Workshop fee includes use of tools and one piece of stone. Addtional tools and stone may be available for purchase
NEW! Tuesdays Rock!
Weekly Stone carving class at Laura Travis Carving
Tuesdays, March 1 to 22, 6 to 8:30 pm!
A highly personalized, in-studio class in carving stone for a limit of 5 people. If you ever wanted to "dig in" in a small group, with every tool at your fingertips, and work towards completing a special project, this is the class for you. It's great for relief carvers looking to get some experience in carving in the round. Beginners are always welcome and will find this a very supportive setting. Soapstone carving in the round and limestone carving in the round or in relief are all options. $125 for four weeks of class at studio 219A, stone and some materials additional. Registration for the classes can be found at Eventbrite or at lauratraviscarving.com or by phone call: 401-792-7149.
---