'Incredible talent' on display at 10th HopArts Studio Trail
Published: October 18, 2015  |  Last Modified: October 18, 2015 06:00PM
By BROOKE CONSTANCE WHITE Sun Staff Writer
HOPE VALLEY — Kim Vredenburg was meticulously arranging her glass and mixed metals jewelry on her table, as she explained the process of creating her feminine, industrial pieces.
"It's called flame working and I use an oxygen propane torch to manipulate rods of glass into different forms like the hearts and beads for the pendants," she said as she showed off a necklace she created with a glass heart on top of a large skeleton key. "I do a lot with hearts and keys because I love antiques and going into little antique shops to find the old skeleton keys is really fun."
Vredenburg, of Richmond, was one of more than 25 artists who opened up their studios to showcase their creations and work spaces Saturday during the 10th Annual HopArts Studio Trail through Hopkinton and Richmond.
Some artists on the trail were invited from other parts of the state to come to the area and set up tables and share space in local studios.
"I love that myself and local artists are getting to showcase our talents," Vredenburg said. "The art and incredible talent that's down here in South County and also throughout the state is just incredible."
The event's founder, Hope Valley resident Leah Grear, started the studio trail as a way to build an artisans community while also giving the area a creative identity. The goal is to promote the artists while acting as a conduit to bring the public into the artisan's creative spaces, she said.
"I moved here 12 years ago and was looking for common spaces but oftentimes community is missing in rural areas like this," she said. "Since starting this 10 years ago, we've been able to give Richmond and Hope Valley a sense of pride and strengthen the community."
Susan Shaw of Hope Valley has helped organize the event since its inception and says it's helped put the two-town area on the map. Being a potter and painter herself, Shaw knows how important it is for artists to have a way to show their work.
"Previously, many people didn't know where Hopkinson or Richmond were located but now many people know us for our numerous local artists and the studio trail," she said. "In the future, maybe it'll draw other artistic people to possibly move here or at least come and visit."
Like many of the visitors, Mary and Roger Nadeau, of Narragansett, had attended in years past and were returning because of how much they enjoyed the event last year.
"When you're retired like us, you mark any kind of fun event like this on your calendars," Roger laughed. "We really enjoy seeing the local talent and the phenomenal pieces they create. Plus it's great to support local artists and discover how many craftsmen and artists there are in the area."
Being from Hope Valley, Janet Grummer often comes to the event both Saturday and Sunday with the hopes of getting to see the work of the artists at all 15 studio trail stops.
"Bringing attention to our local artists has greatly enriched our community," Grummer said. "The studio trail is a very rich art experience and gives a rather small community a lot of exposure when it doesn't usually get any."
Alfred Corn, of Hope Valley, has been coming to the event for the past four years to do some of his Christmas shopping.
"Its a great way to spend a fall day and a wonderful chance for artists to share their work. I like doing anything to support local artists." he said. "It's really extraordinary how many talented artists there are in this rural area."
The HopArts Studio Trail continues Sunday from 10 a.m. to 5 p.m. For more information visit studiotrail.hoparts.org.
---

On theTrail
By Kathie Raleigh / Special to The Independent
Fall is a fine time to take a ride through scenic Hope Valley, but there couldn't be a better weekend to do it than the one coming up.
Saturday and Sunday is the 10th annual – free – HopARTS Studio Trail from 10 a.m. to 5 p.m., when more than 30 artists will open their studios to the public, inviting folks in to see what they make and how they make it.
The work runs the gamut from painting, photography and sculpture to quilts, hand-woven materials and wearable art. There will be pottery, both decorative and functional; woodworking that results in small bowls or large pieces of furniture; and creations in glass, be it stained, hand-blown or cast. Jewelry comes in myriad styles but all pieces are handcrafted and unique.
There are 15 stops on the trail, some showcasing a solitary artist and others bringing four or five artists together. Tour takers can start and end anywhere they choose. This bounty is contained in a roughly seven-mile area in Hopkinton, Richmond and Charlestown, around Exit 3 off I-95, and along routes 3, 138 and 112. The organizers have a map online at studiotrail.hoparts.org and brochures are available at many businesses in the area.
The artists look forward to this annual event as much as art aficionados and people who are curious about what's going on creatively in the area.
"It's my favorite weekend of the fall," said Laura Travis, whose stone carvings and sculptures decorate indoor and outdoor locations across the region. Her stone of choice is limestone, which she calls "a blank canvas. It's off-white or buff and soaks up the light; it's non-reflective."
She will demonstrate stone carving, including how to fix accidental chips and cracks that occur when working with such an unforgiving material, at Shaw Pottery, 7 Corey Trail, Wyoming, joining resident painter/potter Susan Shaw, wood-turner John Buscaglia, quilter and fiber artist Judith Larzelere, and Jon Campbell, a silversmith and sculptor.
"I love it," said weaver Jan Doyle of the weekend event. She will open the doors at the Carolina Fiber and Fiction Center, in the historic Octagon House on Route 112 in Richmond where she works and holds a weaving school. (The "fiction" refers to her partner's work leading sessions in creative writing at the center.)
Doyle became a weaver after dealing with other "addictions," the word she uses to describe her approach to knitting, crocheting and now weaving.
"I always loved touching fibers," she said, "and weaving is so complicated, you can study it for a lifetime. I'm not bored." The intricacies come in dyeing the threads and designing the weave.
"It's very much like painting with thread," she said of her work, which may be utilitarian, like a scarf, or decorative. Her work has been shown in the U.S., Canada and the United Kingdom; she also teaches in the textiles department at the University of Rhode Island.
This studio tour, she said, offers a special opportunity. "So often when people see a piece of art, there is no back story. Here they can see what goes into it."
Doyle's center will offer a lot to see. "We'll have about 20 weavers and spinners demonstrating at looms (indoors) and spinning outside."
Bringing artists and interested people together is what Leah Grear had in mind when she and fellow artist Beth Drainville and Langworthy Public Library Director Michelle Walker organized the first studio tour.
"I moved to Hope Valley about 12 years ago and thought it is a really beautiful town, environmentally, architecturally. But I wondered: Where are the commons? Where do we gather? Where do we meet strangers?" Grear said. An artist herself – she's a painter, a potter and an art teacher at Wheeler School in Providence – she and her cohorts envisioned the open-studio event as a way to bring people together. The fact that the number of participating artists has more than doubled in 10 years is, she feels, "a testament to a need."
But there also is a spin-off that's just as important to Grear. It's what she calls "place-making … about showing a community its own value," she said. Grear will show her pottery, paintings and prints at Grear Studio, 1070 Main St., Hope Valley. She also will demonstrate how she creates carvings in clay.
In addition to showcasing their work, the artists will sell it, at a range of price points, which makes the tour a potential source of holiday gifts. Whether the goal is shopping, tapping into local creativity or simply taking a ride through a rural and scenic part of Rhode Island, the HopARTS Studio Trail is your guide.
Details on the artists, their locations and a map are available at studiotrail.hoparts.org.
---
PRESS RELEASE OCTOBER, 2015

HOPARTS STUDIO TRAIL CELEBRATES ITS TENTH YEAR WELCOMING THE PUBLIC TO VISIT ARTISTS STUDIOS IN SOUTHERN RHODE ISLAND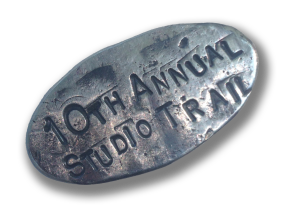 The tenth annual HopArts Studio Trail will take place on October 17th and 18th from 10 AM to 5 PM. HopArts artists will once again open their studios to visitors to demonstrate their process and display their work. It has become the premier way to greet the autumn season, bringing together artists and the public in a personal and welcoming way.
This free event was started ten years ago by three local women who were inspired to invite the public to come to one of the prettiest corners of Rhode Island to discover a growing community of seasoned artists who live and work in the area.
This year we will be showcasing 30 artists in 15 studios and venues.  The group includes award winning artists, recognized for their accomplishments. Participants work in a variety of mediums, including: oil paints and watercolors, wood and metal sculpture, photography, jewelry, glass, ceramic, stone, and textile and fabric art. Participating artists enjoy the chance to welcome new and returning visitors to our trail. The location, the time of year and the art work combine to make this a satisfying and very special experience.
You can start anywhere on the trail and visit as many artists as you like over the course of the weekend. Studios are located in and around Hope Valley, Exit 2 or 3 off Route #95.  Brochure and map are available online at: studiotrail.hoparts.org, and at many of the local businesses along the way. The website and the brochure provide a map to guide you to each artist location, and offer information about each artist and their work.
Contact information for participating artists for interviews and high resolution images can be arranged for members of the press.
CONTACT: YVETTE BAEU, 402-539-9827, 401-935-1953 (MOBILE) yvetteatmillhouse@gmail.com
---
PRESS RELEASE: October, 2014
CONTACT:  YVETTE BAEU, 402-539-9827 | 401-935-1953 MOBILE
HopArts: The Studio Trail Welcomes All Art Lovers.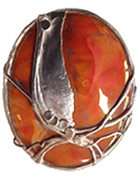 In it's ninth year, HopArts has become an established tradition which not only helps usher in the Fall season, but brings together artists and the public in a welcoming and personal way.
On October 18th and 19th, from 10 AM to 5 PM, HopArts will once again open the trail to a diverse group of local artists and artisans who are happy to show their work, demonstrate their craft and display their surroundings.
Started nine years ago by three local women on the premise that the public would come, if invited, to one of the prettiest corners of Rhode Island, perhaps for the first time, if they were aware of the growing community of seasoned artists living and working in this "neighborhood."
This year there will be 32 artists showing in approximately 15 studios and homes. These artists are award winning, recognized and accomplished. Their work spans a variety of mediums, from oil, wood and metal sculpture, photography, jewelry, glass, ceramic, textile or fabric art. Many of the artists are returning because they enjoy the chance to meet the public and the association with the other participating artists whose quality of work is impressive.
Every year the visitors, talk about their delight at meeting the artists and seeing their process, in this informal way. As one visitor said last year: "this is very special."
The Trail begins in the town of Hope Valley. Exit 2 or 3 off Route #95. Brochure and map are available online at: www.hoparts.org or at many of the local businesses. The website and the brochure provides a map to guide you to each of the artist's location, and to tell you about each artist and their work.
---

Published: October 20, 2013
By NANCY LAVIN Sun Staff Writer
HopArts trail an art lover's bonanza
HOPKINTON — From painting and drawing to jewelry making, ceramics and mixed media, the HOPArts Studio Trail offers something for all art lovers at its eighth annual event.
This year's trail features 36 local artists sharing the process of their craft with the public at 18 studios designated as trail stops.
The event, which continues today from 10 a.m. to 4 p.m., serves as both an opportunity to bring together artists in the area and a chance for these artists to "demystify" their work for the larger public, according to Leah Grear, who was involved in creating the original event.
Grear, also a ceramics and clay artist with her own studio on the trail, said she quickly noticed the lack of community gatherings between local artists after moving to Hopkinton eight years ago.
"Honestly, I was kind of lonely," she said. "I wanted to meet other local artists and create that central gathering place."
Together with Beth Drainville, another local artist, and Michelle Walker, president of the Langworthy Public Library in Hope Valley, Grear advertised for a studio trail event with signs at local stores. Her efforts were met with a wide response.
"The artists just started coming out of the woodwork," she said. "It was just a matter of striking the match. The fact that it took off said to me that there was a real need for this."
From a grass-roots idea, the studio trail has now grown to be an annual town tradition, attracting more artists and art enthusiasts every year.
Potter and painter Susan Shaw, also featured on the trail, led this year's steering committee in organizing the various components of the event, which include publicity, finance and social media.
The five-person committee has been meeting weekly since March, according to Shaw, working to create the path for this year's trail and review applications from interested participants.
"We always want to have the most diverse group of highly talented people we can find," she said. While artists must apply for entry into the event, Shaw said the committee will encourage certain artists to apply, especially if they work in an unusual medium. Many artists also return multiple times, though they have to reapply each year.
About 25 percent of this year's participants are "guest artists," meaning that while they may live and work close to Hopkinton, they are using space in other artists' studios to display their craft in this event.
Even for veteran artists of the event, Shaw said every year brings something new and different, which is reflective of the nature of art.
"As expressive, creative people, their work is always changing," she said. "As an artist myself, posing new challenges in my work is what keeps my interest."
Among the artists featured this year was Westerly quiltmaker Judith Larzelere, who was recently awarded the Rhode Island Council for the Arts 2014 Fellowship in Crafts grant.
Larzelere has been a part of the HOPArts Studio Trail for the past four years, and said the audience is what keeps her coming back.
"It's a chance to meet a really informed buying public," she said. "The setting is so refreshing, so different compared to the other craft shows I do, which are in a more commercial space."
Another Westerly artist on the trail agreed that the crowd of visitors is very unique.
"It's the interaction with the people that stop by that I love," said Terrie Magill, a jewelry maker who joined the event five years ago. "They have such an interest in seeing what's going on, how things are done."
Magill was one of several artists on the trail giving live demonstrations of her work, which involves molding and etching pieces of metal.
Larzelere and Magill said the organization of the event and the high quality of the other artists involved make them reapply every year.
"Susan worked really hard to put this together, and it's a wonderful experience for everyone," said Magill.
Like the artists, some of Saturday's visitors were returnees.
Lois Cuddy, of Richmond, said this was her third year attending the event, bringing with her two friends and fellow art lovers. Cuddy said she is also studying under one of the tour's artists, Beth Drainville.
"I'm learning how to paint, but I'd hate to call myself an artist," she said.
Her friends quickly chimed in. "She's an artist; she definitely is," said Susan Aylward, of North Kingstown, and Sally Burke, of Wakefield. "We're just fans, that's it."
While Cuddy said they have always appreciated art, frequenting museums and events like the Wickford Art Festival, the HOPArts Studio Trail is unique because it lets viewers see how the art is made.
"We get to see the work in progress," said Aylward.
The threesome said they made the visit a full-day outing, hoping to see as many artists as possible. While they had already purchased some items, all agreed that it was impossible to pick a favorite artist or medium.
"We're open to everything," said Cuddy. "I can't pick just one medium and say that's what I love."
Peg and Les Regenbogen, of East Greenwich, have never attended this particular studio trail, though they said they have traveled the West Bay Open Studio event several times in the past, and are no strangers to the art world.
"We always like to see what local artists are doing, and how they are progressing in their work," Peg Regenbogen said.
"Progressing and maturing," added Len, who said the couple has several art pieces in their home.
In particular, both said they loved the work of Carol Schmedinghoff, a Cranston-based artist who carves birds from wood and places them in intricate, three-dimensional settings she creates from natural materials.
"It's very special," said Peg.