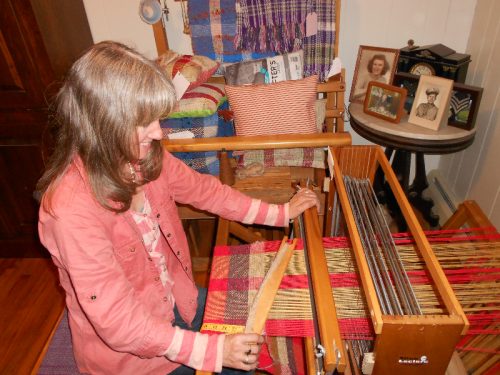 I learned to weave while in High School at Norwich Free Academy in the 1970s. Following High School, I took private lessons for a year. I was able to purchase a 27″ Leclera floor loom. For many years I only worked on small projects on frame lots. Family and work filled my days. Now that I have more time, I am back weaving on my floor loom. I'm also using an Inkle loom which makes belts. I find myself inspired by different color combinations.
In 2013 I bought the Old Rockville Post Office. This building was rebuilt retaining many original features. I'd love for people to see my weavings in this space.
Joyce will be at her studio  4 | Map It.
Joyce Hoffman
26 Northern Drive
Moosup, Connecticut 06354
860.564.5542
hansenrc@yahoo.com